MY FAIR LADIES: FEMALE ROBOTS, ANDROIDS, AND OTHER ARTIFICIAL EVES (Rutgers University Press)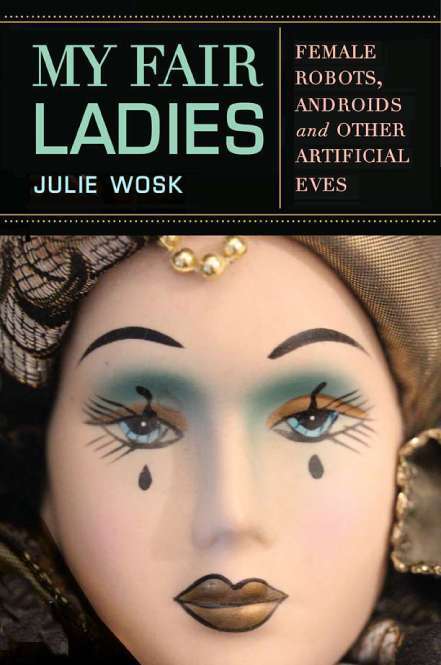 In her book MY FAIR LADIES: Female Robots, Androids, and Other Artificial Eves,  author Julie Wosk  presents a riveting view of artificial females in film, television, literature, and art--and today's startling silicone robots that look so real they can easily fool the eye. It showcases the fascinating story of how men throughout history have used the tools of technology to produce the glamorous "Perfect Woman." It also highlights women filmmakers and artists who are creating their own witty versions of simulated females, and women working in the field of robotics who are reshaping the field in imaginative ways.
The fantasy of a man constructing his perfect woman dates back to the Greek myth of Pygmalion. Yet as technology has advanced over the past century, the figure of the lifelike simulated woman has become nearly ubiquitous, popping up everywhere from Bride of Frankenstein to Weird Science to The Stepford Wives and the film Ex Machina--and today's eerily lifelike female robots. Now Julie Wosk takes us on an engaging tour through this bevy of artificial women, revealing the array of cultural fantasies and fears they embody.
MY FAIR LADIES was inspired by the author's own early experiences working as a public relations writer at Playboy Magazine in Chicago. Lavishly illustrated, the book features colorful images of facsimile females both past and present. These images, writes Julie Wosk, have been shaped not only by changing technologies and important social changes, but also by changing attitudes towards women themselves.
Says London's THE GUARDIAN: "the lure of technology to create manifestations of 'the perfect woman' has long proved seductive... Rounding up a veritable sorority of artificial Eves, Julie Wosk delves into the issues in her latest book MY FAIR LADIES, casting an analytical eye over female depictions both physical and fictitious, to explore the history and future of Woman 2.0."
REVIEWS:
"a riveting portrait of simulated women, female robots, and robot technology in media and art from ancient generations to modern-day creations."
----LIBRARY JOURNAL
"A remarkable wide-ranging study...My Fair Ladies shows an impressive grasp of the history of the 'artificial woman'"
---- ALH (American Literary History review 2017, Oxford Univ. Press)
"Wide-ranging, lively, and thoroughly researched, Julie Wosk's book expertly guides us through the cultural meanings of artificial females in myth, literature, movies, television, art, and photography, among other fields."
----Susan Ostrov Weisser, author of "The Glass Slipper"
"The clarity and the engaging style of Wosk's descriptions—not to mention the images included in the book—make of My Fair Ladies a veritable trove of resources for teachers and students of gender, culture, and the media....Wosk's singular perspective as an art historian, and importantly, as an artist, stands out for its freshness and originality."
---- Feminist Media Studies
"From Ovid's "Metamorphoses" to "The Stepford Wives," from Enlightenment automata to 21st century robotics, Julie Wosk takes us on an amazing tour of ideas about technology, about human perfection, and about gender."
--Ruth Schwartz Cowan, Author of "More Work for Mother"